CAMBRIA, Wis. – Nestled amid the winding roads of rural Wisconsin is one of the most technologically advanced dry corn milling facilities in the world: Didion Milling. The state-of-the-art facility that exists today is even more awe-inspiring considering the hurdles the organization overcame.
After tragedy struck the corn processing and ethanol facility in May 2017, leaving the corn mill inoperable, the leadership team at Didion had every reason to close its doors.
"Seven out of eight companies that go through what we went through don't come out of this," said Luke Burmeister, chief financial officer at Didion Milling, which began operating in the early 1990s.
But Didion's leadership team didn't consider giving up. Instead, the team convened shortly after the incident and decided they were going to lead with their hearts and carry on. Their goal was to think 10 steps ahead and consider the employees, the community and the farmers who live, work and do business with the mill. The leadership team's tenacity, along with its selection of supportive business partners, got the company through one of the toughest business problems any organization could face.
BUILDING A PARTNERSHIP
The relationship between Didion and Compeer Financial started in 2006 when Didion was looking to expand its offerings. Didion wanted to construct an ethanol facility to more efficiently utilize the co-products from the milling process.
With decades of expertise in financing agribusinesses like Didion, Compeer Financial was a natural fit as a financial partner and adviser. When the bid for the new ethanol facility opened in 2006, the two companies got to know each other, and Compeer Financial financed the construction and eventually the business's operating needs. Through this initial business partnership, the two companies saw the same values in each other.
"We built up a lot of trust," said Jason Johnson, food and agribusiness director for Compeer Financial. "It was clear to me that the Didion folks were always transparent with who they were and what their end goals were."
Compeer Financial and Didion were able to serve as excellent resources for each other as the ethanol facility was built and became operational.
"Compeer is able to provide information to us on how we can improve, because they work with numerous agribusinesses, including a number of ethanol plants," Burmeister said. "We like to ask our partners how we can get better in all facets of our business."
Johnson noted that both organizations are focused on solutions and working together toward the end goal. "The bottom line is we have a high level of trust and confidence in the Didion team," he said.
"This relationship helped lay the groundwork for success when times got tough," Johnson said.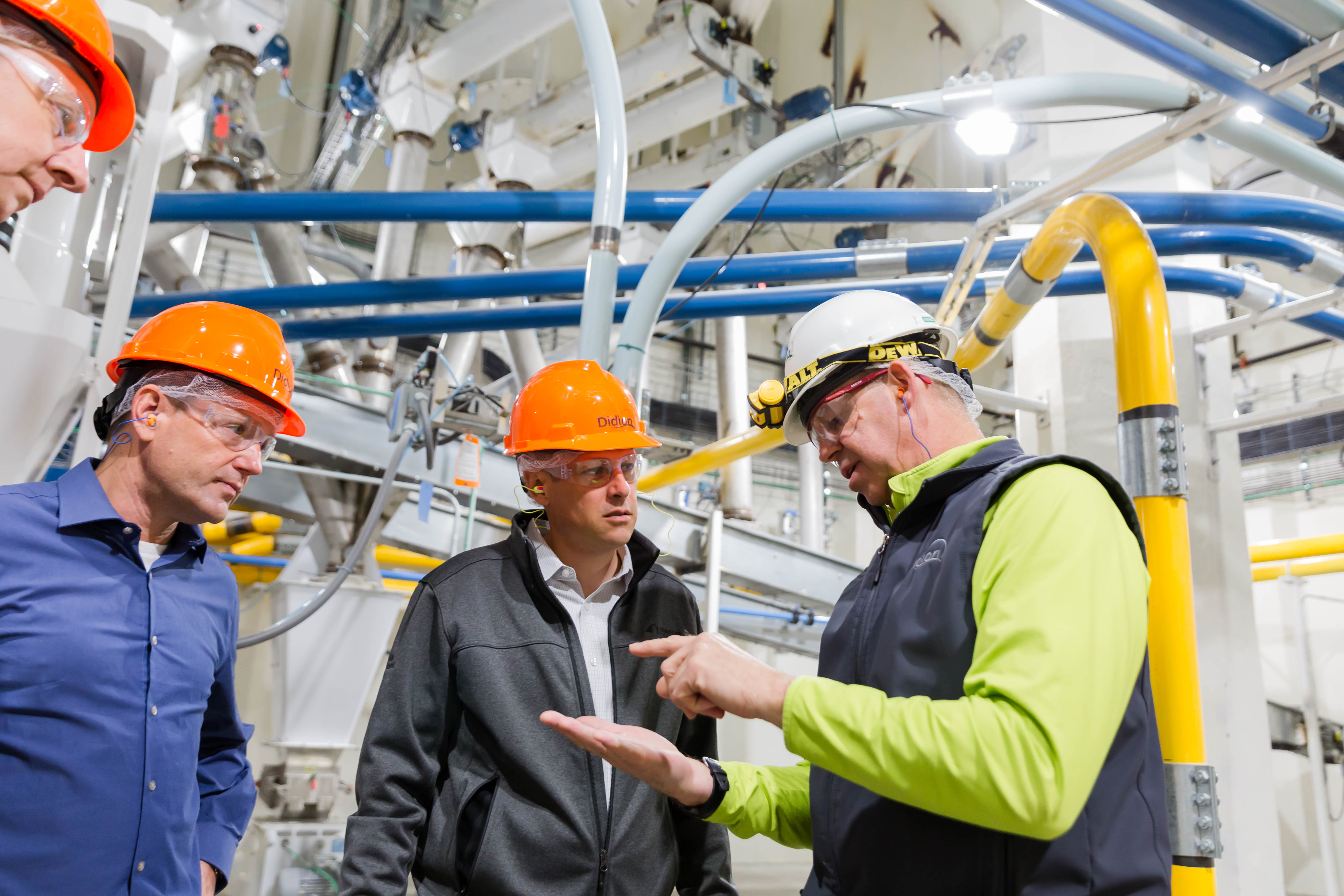 REBUILDING A FACILITY — AND A COMMUNITY
After the May 2017 incident decimated the mill, Didion faced an uphill battle that would require not only funding to rebuild but also a hefty dose of trust and collaboration. Didion took this moment to refocus the company's vision, realizing its goals were more important than ever.
"We immediately started talking about who we would need to collaborate with to rebuild in order to take care of our employees and the community," Burmeister said. "In today's world of compliance, it has become harder for banks to lend based on off-balance sheet items like character and leadership, but thankfully Compeer Financial stepped up to the plate."
The power of this collaboration isn't lost on second-generation owner and President Riley Didion.
"Compeer Financial trusted our vision and our relationships with our customers," Didion said. "Essentially, they were betting on our word — that we were who we said we were."
The trust was mutual for Compeer Financial.
"In our business, the financials matter, but we're really taking mitigated risks on the management teams of these agribusinesses," Johnson said. "We have to trust their vision, foresight and execution of their business plan."
It wasn't all about cash flow and collateral. The Compeer Financial team reviewing the proposal remembered how Didion was able to work through challenges during its ethanol build and startup in the middle of the "great recession." That character and collaboration helped seal the deal.
TODAY AND BEYOND
The vision for the new facility was founded on futuristic thinking and centered on the people who work there. The state of the art mill has been operating since March of 2019 with more focus than ever on safety, automation and doing business the right way.
"Our differentiator is our people," Burmeister said. "We care about culture, safety and providing the best customer care possible as a team."
This differentiation and focus on people — for their customers, employees and farmer vendors — make Didion Milling a high-performing workplace.
"I'm very proud of what Didion aspires to be — great culture, great people and an incessant focus on improving processes to help feed the world," Didion said.
Compeer Financial can provide assistance with agri-business finances and operations based on historical data and industry expertise. Compeer does not provide legal advice or certified financial planning.
Compeer Financial is an equal opportunity employer and provider, and an equal credit opportunity lender.