Swine Industry Financial Outlook for 2022
The pork industry is wrapping up a pretty good year for most producers financially. For most of the year, and particularly in the summer of 2022, market hog prices were strong. They outpaced higher costs of feed and production. The chart below shows the I.S.U. profit model going back over the 12 years ending 2020 and profits estimated by month though most of 2021. Remember, this is a model. The model assumes you are selling the same number of pigs per day, and purchasing the feed at market prices each day. Production is typically lower in the summer months, both in numbers and pounds. This year was no exception. Herd health in the winter and spring of 2020-21 had a lasting impact on the number of pigs marketed from April to November of 2021.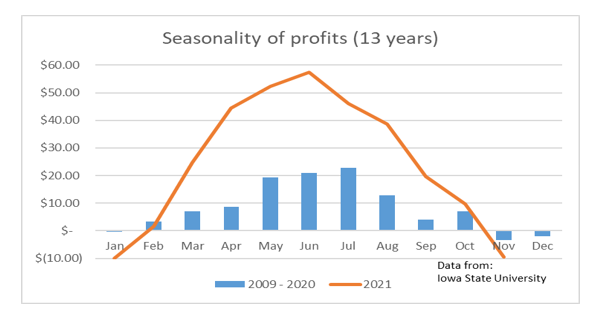 Profitability
The prospects are good for the next year, based on current futures prices:
FEB $80.20, APR $84.975, JUN $96.40, JUL $96.625, AUG $96.025, OCT $82.475, and DEC $75.95.
If costs remain in a range around $80 per cwt. the industry would be profitable, but not as strong as 2021. Demand remains strong with new records for retail pork prices set in November. Exports may not outpace 2020 when the final months are reported, but they will be close to the records set in 2020.
The outlook for 2022 will likely include higher feed costs. Nearby corn futures are $5.90 per bushel and soybean meal futures are $373.00. These input costs will likely drive costs of production over $80 for most of the industry. Producers should watch the volatility of these markets, as production costs for corn may impact planting intentions and corn acres in 2022.
Production
Pork production is always a challenge to predict year-to-year. Last year was a challenging year for PRRS and will be worth paying attention to as it relates to final harvest and pounds in the next year. Overall, production, in my opinion will continue to improve at somewhere around 2% annually, but it is never a straight line. Do we make up for 2021 this next year? It's possible, but impossible to know until we get well into the next marketing year. Based on what we have seen over the past year, new construction may have been the least in a decade, so increases will have to come primarily from better performance.