The Cider Farm: Branching Out from the Norm
When Deirdre Birmingham and John Biondi decided on growing apples and making hard cider, they branched out from the norm.
"We decided to do European cider apples and this was at a time when cider was really nowhere in this country," Biondi said.
With an enthusiastic entrepreneurial spirit and a focus on sustainable farming, the husband-and-wife duo set forth to create a market for a unique cider unlike many of the typical ones now found in stores today. That is how their business, The Cider Farm, came to be. Now, the couple grows over 16,000 organically managed apple trees in their orchard near Mineral Point, Wisconsin, making ciders and apple brandy from their juice. These are sold throughout Wisconsin and Chicago as well as in their cidery and tasting room in Madison, Wisconsin.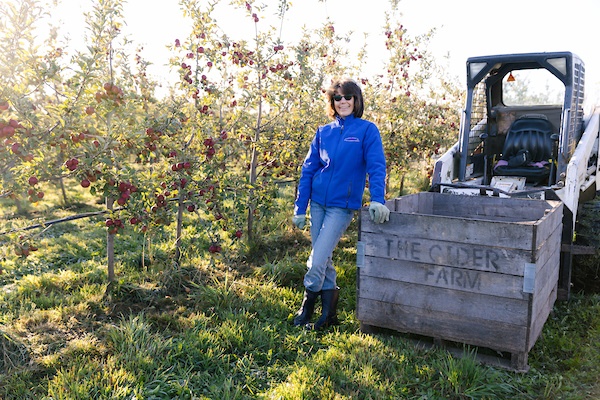 To help them through the process of getting their business up and running, Biondi and Birmingham became a part of the Emerging Markets program at Compeer Financial. Having known Paul Dietmann, Compeer Financial senior lending officer, the pairing worked well.
However, it was more than their friendship with Dietmann that drew Biondi and Birmingham to Compeer Financial to assist them with their lending needs.
"Most lenders look at ag projects, scratch their head and say, 'No, we don't do this," Biondi said. "So, it's great to have someone like Compeer Financial that does focus on ag."
Birmingham agreed.
"Paul is familiar with so many diverse agricultural operations," she said. "He understands organic farming, and he has an extensive background of working with that segment of the industry in Wisconsin so he certainly didn't shy away from what we're trying to do. He only sought to understand it and see how Compeer Financial could help us reach our goals."
Those goals were to have an organic farm with a value-added finished product. The wild apples on their land they bought in 2002 sparked the idea of making fermented ciders, specifically from English or French cider apples with tannins.
"For the quality of product we had in mind, we needed those varieties," Birmingham said. "We wanted the depth and character that tannic apples can add to the drinking experience."
After finding someone with English cider apple trees on a small orchard, Birmingham and Biondi rolled up their sleeves and got to work learning how to graft trees to create their orchard from scratch.
In the meantime, the couple also worked on how to market their future beverage. Contracting with a distillery in Madison, Biondi and Birmingham made their first beverage from their own apples – an apple brandy they had distilled in 2011 and released in 2013. In 2015, they started making cider.
"One of the most common refrains we get is that our ciders remind people of wine," Birmingham said.
Wanting to take on more of their own distribution and production, the couple opened their cidery and tasting room in March 2019.
"The tasting room and cidery provides us with a high-margin retail presence and our own cidery facility," Biondi said.
Although the novel coronavirus pandemic has created changes for the couple, Biondi and Birmingham try to look to the positive side of these challenges.
"The COVID-19 situation made us look at our business model a little harder than we probably would have otherwise," Biondi said. "We look at our tasting room as a proto type on which to expand in Wisconsin. We're trying to create a brand that is scalable."
Whether taking on the challenges of the pandemic or looking at the future of their business, Biondi and Birmingham have been able to rely on the support of Dietmann and Compeer Financial.
"It's great to have support from Compeer, a partner that understands the ag side of this, understands what we're trying to do and has some flexibility to not just do lending for corn and beans but for a different type of ag operation such as ours," Biondi said.
The support has helped Biondi and Birmingham branch out from the norm to create an orchard, tasting room and brand they hope will grow larger in the future.