Wisconsin Dairy Farm Trends
Like the agricultural industry in general, the dairy industry in Wisconsin is ever changing. Looking back at this past year, dairy farmers faced many challenges with extremely volatile milk prices and a global health pandemic, however compared to other years, more Wisconsin dairy farm operations were able to remain in business. According to the United States Department of Agriculture (USDA) Statistics Service, there were 6,932 herds in the State of Wisconsin as of January 1st, 2021. Compared to a year ago, this is a decrease of 360 herds or about 30 dairy farms a month. From 2019 to 2020, Wisconsin lost 818 licensed herds and in 2018 and 2017 the number of dairy herds exiting the business was more than 500. Below is a graph of this year after year trend in the number of dairy farm operations in the state.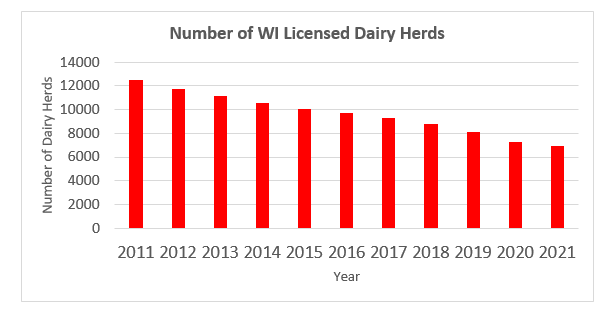 Location of WI Counties with the most CAFO Dairy Operations
The counties that had ten or more herds that left dairy farming in the last year were Clark, Dunn, Grant, Green, Kewaunee, Marathon, Shawano, Trempealeau, Vernon, and Wood. Vernon County had the highest number of herds exit the industry with 20. The dairy farm numbers continue to decline, but will likely decline at a slower rate as the total number declines.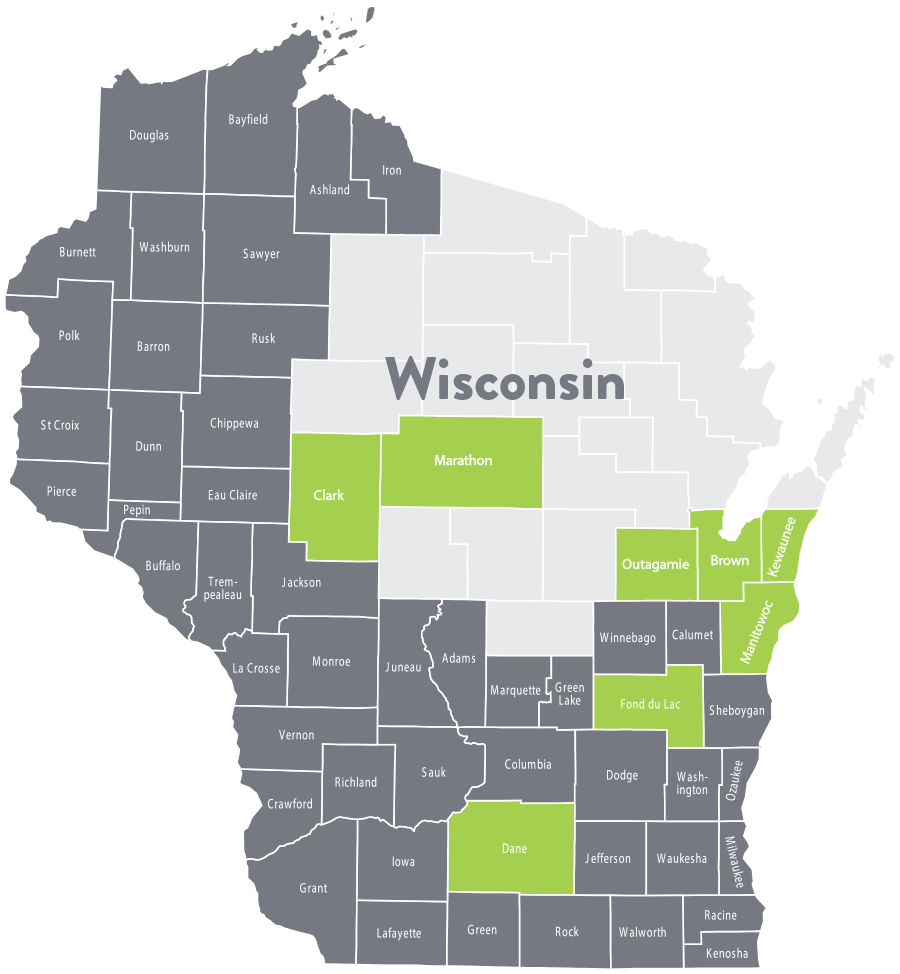 As the number of dairy herds have declined, the number of Concentrated Animal Feeding Operations (CAFO) dairy farms in the state has grown to a total 289. CAFO is defined by the United States Department of Agriculture (USDA) as an animal feeding operation in which over 1,000 animals' units are confined for over 45 days a year. An animal unit is defined as an animal equivalent of 1,000 pounds live weight and equates to 700 dairy cows. The area of the state of Wisconsin with the most CAFO units is the NE region. The counties with the most CAFO operations for Dairy were Brown with 21, Manitowoc with 23, Kewaunee with 17, Fond du Lac with 16, Marathon with 13, Dane with 11, and Outagamie, Clark, and Sheboygan all having ten. The other counties in the state had less than ten CAFO farms. These CAFO's are less than five percent of all dairy farm operations in the state. This information is based on the DNR Data as of January 1, 2021.
When looking at the overall dairy farms in Wisconsin, there are three main markets for dairy farms. The first is the mature small farm market (50-100 cows) and is relatively inactive with most buyers being local. These farms are not being purchased for the use as an operating dairy, but for add on land base or as part time farms. These dairy barns are small freestall barns or older tie stall barns with pipeline milking systems, and are essentially functionally obsolete.
The second market of mid-sized dairy farms (100 to 700 cows) is very limited and generally consists of ten to 30-year-old free stall barns and parlor systems. These facilities suffer from a fairly higher equipment and facility costs and sometimes higher labor costs. The use of these size dairy farms, when sold, vary from buyers purchasing them for the continued use as an operating dairy farm, the use of the facility to be used for raising youngstock or dry cows, or being purchased mainly for the land base with the buildings being used as a part-time farm. Within this size of dairy operation, there has been an increase in trend with these dairies particularly moving to robotic milkers from a parlor operation. This is mainly due to the labor shortage on dairy farms. This trend has been a slow process with a scattered operation trend in different areas around WI. With more and more dairy farms installing robotic milkers, the number of robotic dairy farms that have sold in Wisconsin have been limited. Most of these observed sales have been under financial stress.
The third tier is comprised of modern large farms (700+ cows). These size farms continue to grow in size with a lot of the farmers looking to expand their operations. The number of dairy farm sales for these size farms in Wisconsin, particularly over the last year, have been very limited. When looking at the Midwest, there have been a number of 1,000 stall plus dairy farms that have sold in the last year, particularly in Michigan, South Dakota, and Minnesota.
In 2020 and into 2021, the dairy market has been heavily impacted as a result of the health pandemic caused by the Covid-19 virus and the volatility of the milk prices. Year after year there continues to be a decline in the number of dairy operations deciding to sell the cows and close the barn doors and an increase in the number of dairy cows in the state. This trend will likely continue in the years ahead, while a number of smaller dairy farms exit the business and the larger dairy farms continue to expand.