Leveraging Outside Expertise
For a guy who tried to wriggle his way out of college at 18, Marcus Hess built quite a career for himself in Chicago working for the Board of Trade. Swapping tractors for traffic and wide-open spaces for crowded places, he spent years on the noisy and chaotic market floor.
This was a far cry from the tranquil Illinois farmland where Hess grew up in the sixth generation on a large corn, soybean and dairy farm. So how did a young farm boy, obsessed with machinery, acres and agricultural production, end up in the pit at the Board of Trade?
He listened to his dad Steve, who together with his mom Phyllis, gave Marcus a "five-year rule." Before becoming a partner on the farm, Marcus was required to spend at least five years elsewhere, working in a different arena.
"I never left the farm and strongly believed that Marcus leaving would give him a much broader scope of the world, a different point of view and business strategies he could apply to the operation," Steve said.
"I tried to wrangle my way out of it," Marcus said. "There was no place I'd rather be than the farm."
He did as his parents asked, however, and went to college to obtain a degree in ag economics.
BACK ON THE FARM
Once those five years were up, Marcus and his wife Shanna decided to move back and join the family farm, where they learned a lot from Phyllis and Steve.
"My mom and dad are great role models," Marcus explained. "They incorporated traditions of previous generations, like setting goals and trying unconventional ideas. They objectively critique what's working and what isn't."
One of the approaches they piloted was the concept of organizing a formal group of external experts to help guide the business from visioning to strategic planning to financials, to labor issues and everything in between.
When Steve shared the notion of an outside advisory council, Marcus was immediately on board.
The result was a group of advisors who meet annually to plan and review operational goals and metrics for the Hess farm. Ranging from six to ten members, participants include their lender, accountant, legal guide and others. Together, they review the previous year's ups and downs, examine what could be done better and determine what they may need to stop doing all together.
"Having that outside perspective and accountability is key," Steve said. "Formal meetings with our advisory council result in more action and execution. The council provides a structure and a way to document we've decided and analyze things later to see where we went right and where we went wrong."
Marcus added, "It's not always easy to put yourself in the position of being vulnerable and putting your weaknesses, worries and concerns out there. But we were motivated to put a system in place that would help us with our operational growth and sustainability."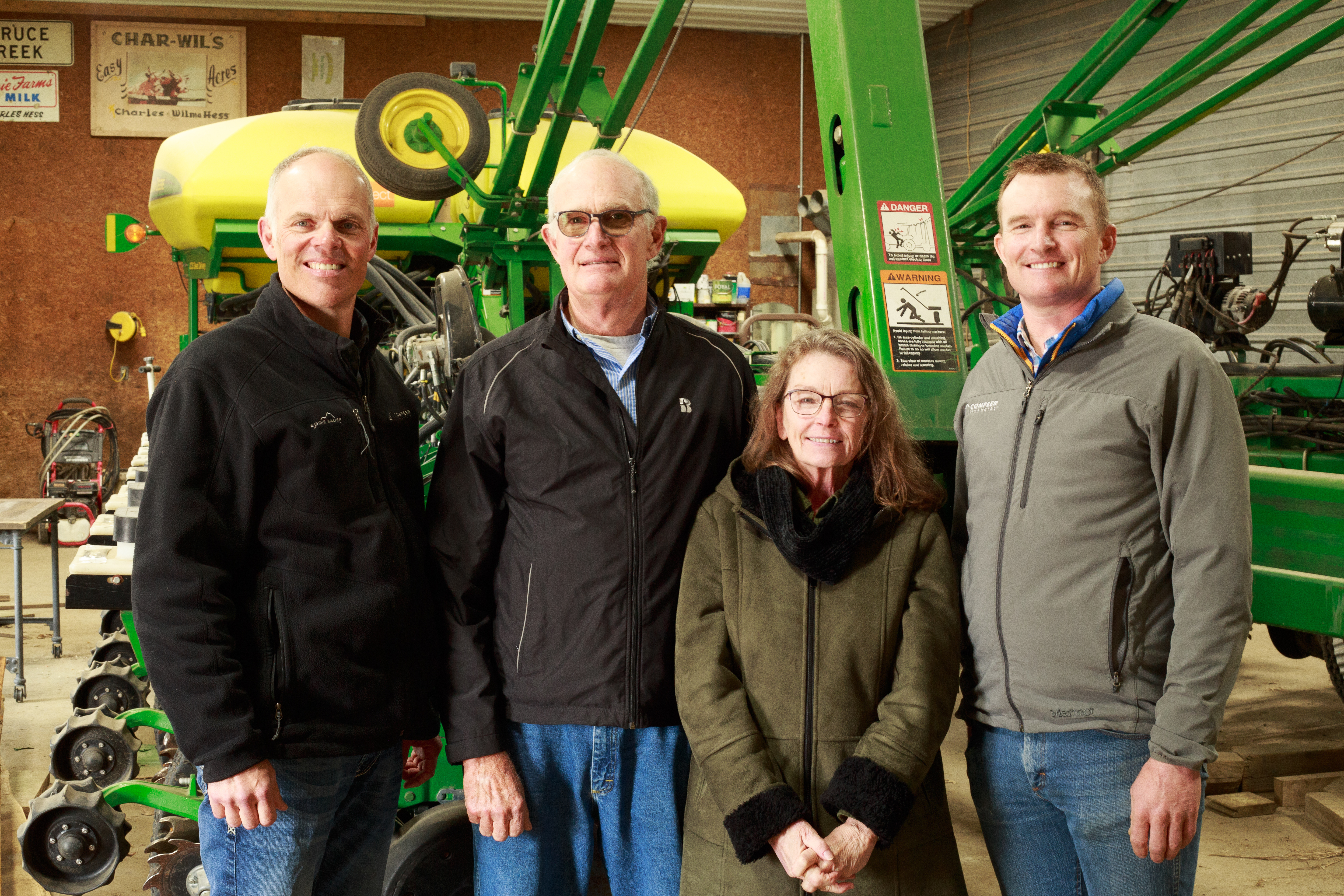 TRIPLE T
Compeer financial officer, Robb Creasey, who has worked with the Hesses since 2010, is one of the outside advisors serving on the council. He sees Hess Family Farm as the "Triple T" operation: focused on transparency, transitioning and teaching.
"From a personal perspective, I value the relationships I have with this family," Creasey said. "It's uncommon to see an operation of this caliber, and the opportunity to work with them has been amazing. The way they do business really aligns with the way we at Compeer do business."
Through advisory group discussions, the family decided to form a C-Corp, which is one of the most effective things they've done, according to Steve. "It's been an amazing succession planning tool and taken the emotions out what can be a volatile topic."
The group came up with a plan where Phyllis and Steve gradually transitioned full ownership to Marcus, with a 20 percent shift each year.
"We're much stronger as an operation and even as a family because of the guidance and accountability our advisory council has provided," Steve said. "It's been amazingly effective, challenging and fun to see the results of our work."
"I'd recommend it to any farmer out there," Marcus agreed. "Large or small, working with intention and having solid goals provides a blueprint to build your business for the future."
This article was originally printed in the Fall 2022 edition of Compeer Financial's Cultivate magazine.