Trends We're Seeing in Southeast Minn. Land Values
The market area outlined in this summary includes Fillmore, Winona, and Houston County. This area of Minnesota has a mix of cropland and recreational acres. Like most of Minnesota, tillable land here is in high demand. Livestock facilities are primarily for cattle. The topography is generally rolling with natural drainage being adequate on the tillable land. Operational utility is variable as the rolling topography can create irregular field shapes. The cropland PI rating is generally in the mid 80's. A relatively new driver of value is the recreational qualities of the land. Market values of these recreational acres have been on the rise. Over the past few years, properties with mixed land resources are being surveyed, split and marketed separately to achieve a higher sale price.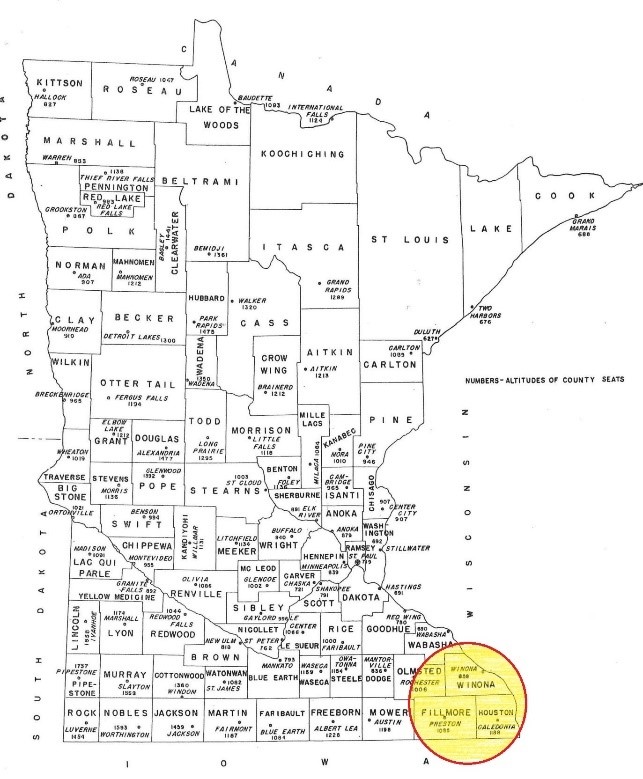 Tillable Land Values:
2021 was a very active year for land sales, but he number of properties sold in 2022 was more consistent with what typically occurs in this area. The weighted average of price per tillable acre increased 13%, which is similar to 2021. This resulted in nearly $1,000/tillable acre increase in value.
The quality of the land sold was consistent with prior years with an average PI rating of 78. There was nearly a 15% increase in $/PI. This value is multiplied by the soil PI rating of the cropland to determine its value per tillable acre.
Below is the table outlining this data. The sales are consolidated from all three counties.
Recreational Land Values:
Since it's more common for recreational land to be marketed separately, we'll examine the data on its own. Separate marketing for rec land has substantially increased the amount of interested buyers in something that was once considered rough ground with minimal value. More and more often, non-traditional rural land owners are purchasing recreational land for a place to hunt, fish, vacation, etc. The main factors that affect value on these properties are water sources (trout streams and rivers throughout the area), the quality of trails, physical access throughout the property, and existing building sites even if the buildings are fully depreciated. Having an established site eliminates the work involved with obtaining a site eligibility from the county if necessary. It also reduces the excavation expenses related to preparing a site for buildings.
I began recording this data in 2021 for all three of the counties. The data shows that there has been a sharp increase in values for recreational acres (nearly 23%). Like the tillable acres, it too has increased nearly $1,000/acre. Below is a summary of the recreational land sales.

Future Outlook:
When discussing tillable land values, nearly every market participant I talk to is anticipating some type of land value adjustment due to the increase in interest rates over the past several months. However, commodity prices have remained at their historically high levels, which is helping support these higher land values. Some owners lease out recreational land as a form of income, but it is still relatively uncommon and rental rates are not consistent. I am anticipating that the higher interest rates will have a more significant impact on the recreational market than on the tillable land market simply due to their income-producing capabilities. Ultimately, the sales will tell the story. So far, 2023 has been off to a slow start. We are seeing longer market times for listed properties to sell. It seems that many are waiting to see what happens.
Check out various articles and resources regarding the Appraisal Industry by visiting Compeer.com.
Note: The preceding information provides a broad overview of market activity in Fillmore, Winona and Houston Counties of Minnesota as analyzed by Mitchell Kehren, certified general appraiser with Compeer Financial – MN License #40380768. This information may not be applicable to each specific case or property type and is not a substitute for an appraisal report.