Special Designation Prepares Appraisers for Rural Real Estate Challenges
According to the U.S. Census Bureau, "rural" refers to areas that are sparsely populated, have low housing density and are situated away from urban centers. A recent study revealed that approximately 97% of the country's land mass falls under the "rural" classification, but less than 20% of the population resides in these areas. In the 2010 "Urbanized Areas and Urban Clusters" map below, rural America is broadly defined as regions with a population of less than 10,000 people.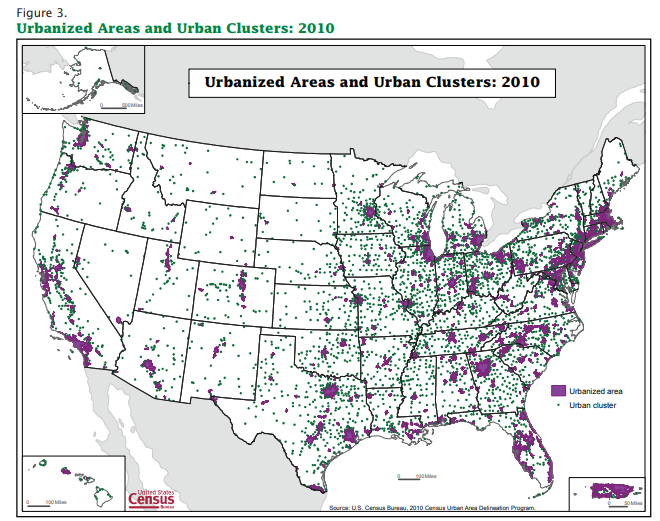 In the context of appraisals, the market can be divided into three broad categories: urban, suburban and rural. While all appraisers pursuing the Certified General License must complete a similar formal education curriculum, the level of experience and specialization greatly differs based on their specific focus. While some urban appraisers may spend their entire careers within a 20-mile radius of a particular city, numerous rural real estate appraisers cover multiple states and hundreds of miles.
For rural real estate appraisers to ensure they possess the tools to handle a wide range of real estate valuation assignments, they can seek guidance from the American Society of Professional Farm Managers and Rural Appraisers (ASFMRA). The Society offers a designation known as the "Accredited Rural Appraiser" (ARA), which requires additional coursework and demonstrated comprehension beyond their state license. Individuals holding this designation possess the knowledge and skills to successfully complete rural property appraisal assignments.
According to the ASFMRA, "the Accredited Rural Appraiser conducts valuation work on a wide range of property types that exist in rural parts of the country. These properties are often among the most complex properties from a valuation standpoint and require a sophisticated valuation expert to properly appraise them."
Dan Legner, senior real estate appraiser with Compeer Financial, was inducted into the membership Hall of Fame for the Illinois Society of Professional Farm Managers and Rural Appraisers (ISPFMRA) during their annual meeting earlier this year. Legner has been with the Farm Credit system since 2003 and is based in Princeton, Ill. He received his Accredited Rural Appraiser designation from the ASFMRA in 2005 and has been with the Society since 1997. The Hall of Fame citation is the highest honor given to active members by the organization.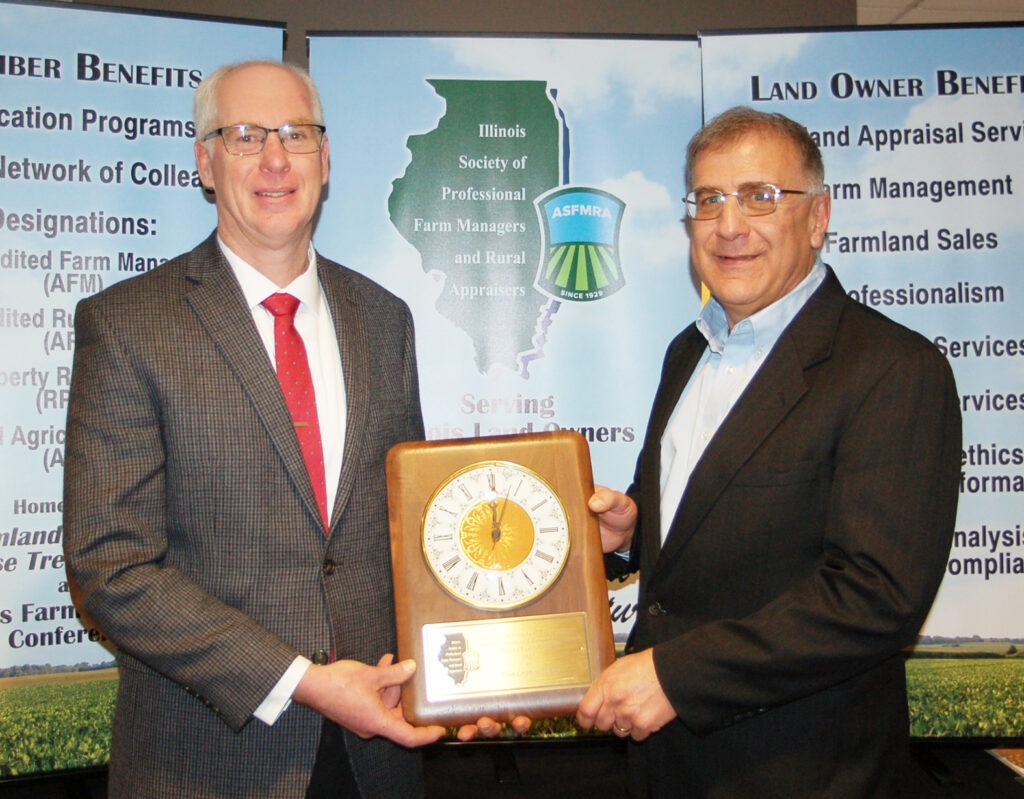 Dan Legner, ARA (left), receives a plaque in recognition for his services in the ISPFMRA.
In addition to serving as the ISPFMRA's president in 2018, Dan Legner has actively contributor to the widely distributed "Illinois Farm Land Values and Lease Trends" booklet. The booklet features information from various contributors, including several members of Compeer's appraisal team. It showcases recent and representative land sales in specific regions of the state, along with opinions on cash rents for various land classes. The 2023 edition of the booklet is now available for circulation. Currently, seven Compeer appraisal team members hold the ARA designation, with six more in the process.