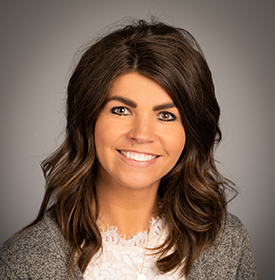 Overview & Bio Information
NMLS ID: 712119
806 3rd Street South
PO Box 608
Waite Park, MN 56387
Jodie has been a Compeer Financial team member since 2010. She has an impressive mortgage banking background, having been a senior credit manager at Wells Fargo in St. Cloud for a number of years. Jodie began building her career at The University of Wisconsin-Stout, where she earned a bachelor's degree and kept busy playing tennis as well.
For Jodie, the best part of the day is that moment when she gets to tell her clients they can build or purchase their dream home, because the financing is in place. She understands that putting together the right financing package takes careful planning and consistent effort. Jodie spends a lot of time finding solutions for clients, and you can trust her to build your financing package with the same effort she pours into everything else. The entire Compeer Financial team puts the same amount of dedication and passion into each project, which is why Jodie says she is proud to be a vital team member.
Jodie grew up on a dairy farm in Foley, MN and continues to live in Foley with her husband and three children. Being immersed in the rural, agricultural lifestyle, she feels a special connection with her clients. Jodie continues to enjoy the simple lifestyle, highlighted by spending time with family, during her off-hours.