Like many industries, supply and demand largely influences the marketability of a property. This becomes even more significant with specialized industries like layer facilities. The last eighteen months have been a prime example of just that.
Early 2020 saw a sharp increase in prices as COVID-19 caused a sudden increase in retail egg demand, depleting store shelves as consumers stocked up at home. Demand grew by four to six times the pre-March level, in an industry that has a fairly fixed short-term supply. By mid-May, prices plunged nearly 70%, which in return increased exports due to low prices.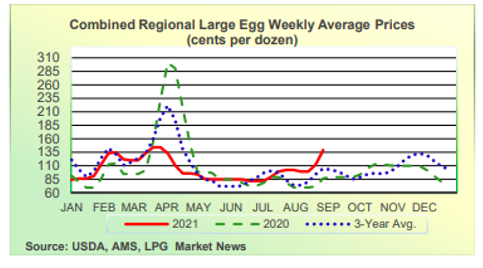 Prices in 2021 have been hovering fairly low with an adequate supply in the market. Prices in mid-May have declined further, to below break-even point for producers. Also, high feed costs are eliminating profitability, as corn and other commodity prices have risen to levels not seen since 2013. The following graph shows the trend for corn prices over the past 12 months. The average closing price for corn in 2020 was $3.64 compared to $5.83 for 2021.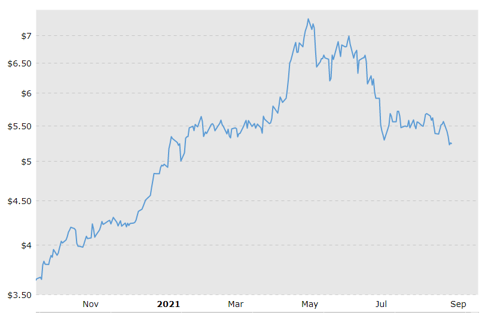 https://www.macrotrends.net/2532/corn-prices-historical-chart-data
If the lack of control in feed prices and demand aren't enough, the trend to cage-free egg production is also driving the market. California is now the first state to implement a law requiring eggs sold in the state to come from cage-free hens, starting in 2022. It also bans cages for egg-laying facilities in the state. Other states have followed suit, including Washington, Oregon, Rhode Island, Massachusetts, Michigan, Colorado, Utah and Nevada. According to the U.S. Department of Agriculture's Agricultural Marketing Service, approximately 71% of the hens in the U.S. must be in cage-free production by 2026 to meet the projected demand. As of March 2021, only 29.3% of the current table egg layer flock were housed in cage-free environments.
With cage-free facilities comes a higher cost of production, and in return a higher price to consumers. Cage-free facilities cost significantly more on a per bird basis than conventional housing. There are also higher mortality rates and increased rate of egg loss.

The volatility of egg prices, feed costs and cage-free housing trends are the three largest factors affecting the layer industry in today's market. When valuing these properties, these same three pieces will have major impact over the desirability of the property.